Beauty & Self
Books & Music
Career
Computers
Education
Family
Food & Wine
Health & Fitness
Hobbies & Crafts
Home & Garden
Money
News & Politics
Relationships
Religion & Spirituality
Sports
Travel & Culture
TV & Movies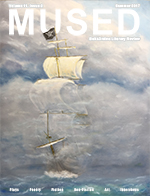 Our time on this Earth is fleeting and precious. We often know that in a vague, intellectual sense, and yet we can find ourselves whittling away those finite minutes without mindful thought. We should celebrate the beauty in a child's smile. The radiant sound of saying "I love you" to that special person. The warm touch of a hand. The delicate scent of a wildflower.

Enjoy the Mused Summer Solstice 2017 Issue



The Magic of Fragrance
Fragrance - Juliette Samuel, Editor

Worked any magic lately? Every time you cook or spray your favorite scent, you're working magic. Here are a few tips and techniques on what to have in your pantry for those who like to do-it-yourself.




Aromatherapy, How To Use It To Relieve Stress
Ethnic Beauty - Juliette Samuel, Editor

Stress, aromatherapy, essential oils and a women's shelter. You never know what life will send your way, the key is in how you handle it.




Vegan Sweet Potato Burger Recipe with Dip
Sandwiches - Connie Mistler Davidson, Editor

Too often when I buy meatless burgers, they taste strange, have a weird texture, or they are so expensive, I need to take out a second mortgage to make dinner. These Vegan Sweet Potato Burgers are better than store-bought. They taste great, have a good texture, plus they are cheap & easy to make.




Texas Ranch Life
Senior Travel - Hazel M. Freeman, Editor

Taunia Elick's love of moving, and restoring old homes destined for destruction has helped her turn her passion for saving old homes into some of the most authentic, lovely and historic, lodging found in the Texas foothills.




New Mercy Every Morning
Christian Living - Lynne Chapman, Editor

I'm studying Lamentations 3:22-24 as my memory verse. It isn't easy to understand mercy that is new every morning.




Long-Acting Stimulant Meds for ADD
Attention Deficit Disorder - Connie Mistler Davidson, Editor

This week the news brought word of two new long-acting, stimulant medications approved by The US Food and Drug Administration (FDA) for Attention Deficit Disorder. One, Contempla, is aimed at children aged 6-17 years old. The other, Mydayis, was approved for ages 13-years old to adults.


| Google+ |
E D I T O R R E C O M M E N D E D
TomTom ONE 130s GPS


Looking for a great GPS unit for your car? The TomTom ONE 130s is a great, moderately priced GPS system with text to speech capabilities. Spoken street names and TomTom´s EasyPort mounting system make this a terrific GPS unit!
Eagle One is 2nd to None!


Everyone should have the basics to keep their rides shiny and road ready. The only way to do it is with Eagle One all day long!
Phoenix Rising


"No Eyes", a very wise, very insightful Shaman Indian takes Mary Summer Rain on a rare journey into the future where warnings of upheavals and challenges are gently yet thoroughly revealed out of love and preservation for her beloved Mother Earth.